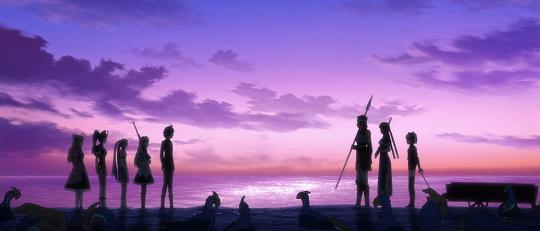 The second season of Hitsugi no Chaika (Chaika the Coffin Princess), subtitled Avenging Battle, may become a bullet point in the argument against the practice of a splitting a broadcast in two. The first season didn't exactly shake the earth but was supremely enjoyable and didn't have any disagreeable sharp edges to it. The second season continues Chaika's story of collecting the remains of her father, the infamous Emperor Gaz, along with her saboteur companions Toru and Akari.
For a while at least it seems to be business as usual: locate hero, procure gruesomely severed body parts, find out more about Gaz and the history behind Chaika. Then suspicion creeps in that this story train is heading full speed for a finale, and it's not stopping at any stations.
Twenty two episodes for a series is nothing to turn your nose up at (see also Hyouka, Ghost Hound, Texhnolyze and Psycho Pass); splitting the broadcast however means that this second season is only ten episodes long. It's a number that raises suspicions of creative differences, of time constraints, of budgetary concerns. The ending then is not rushed - it ends in exactly place you would expect given all that's gone before - the story as a whole though hasn't had time to breathe. Careening from one situation to another (Doomsday Weapon! Black Chaika! Toru and Akari's mentor! Emperor Gaz!) its principal players aren't afforded the time to gather their thoughts meaning we, the audience, aren't given time to gather theirs.
White Chaika for instance has her world ripped out from beneath her, tears and confusion abound, yet she meets up with Niva whose own story is primed to be a reflection of her own. Nope, no time, we've got castles to storm and battles to wage. Toru, similarly, was pitched as a conflicted ex-soldier, yearning for purpose in a world bereft of war. His relationship with Chaika is obviously romantically tinged yet when his resolve is tested, his decision seems flippant rather than measured. All the pieces are there: his ex-mentor claiming he was never cut out to be a saboteur, the change from desiring battle to wanting to protect, even the significance of becoming a knight. But it all gets compressed and distorted without the foundation of introspection, meaning many events boil down to: because plot.
It's a shame because the thematic skeleton of the story has always been about what people do when their raison d'etre is removed. The heroes who originally slayed Gaz turn to madness, to paranoia, to winemaking; the Chaikas who continue their mission even when their grim purpose is revealed; the saboteurs who take any mission if it involves battle. To not reflect on these concepts when the story has more or less gifted them a giant mirror is endlessly disappointing.
Moment to moment this season retains the same chemistry of the core quartet: Chaika, Akari, Toru and Frederica. Toru and Akari still trade barbs despite the latter's deadpan incestuous adoration of the former, Chaika and Toru orbit one another with furtive looks and blushing cheeks, Frederica meanwhile lusts for bloodshed and her whimsical, cavalier demeanour only makes her lack of achieving it all the more amusing. Other groups don't fare nearly as well. Red Chaika, who shares the same disjointed speech pattern as White Chaika only with more fury behind it, rarely proves to be anything more than a pleasant aside for all the effect her and her otherwise wonderful snake-blade have on the story.
The Gillette squad too have little to say for themselves after the eventful end of season one. Now that they are no longer hunting the White Chaika's group the pressure is off and they are relegated to relaying the political situation (such as it is) despite having another Chaika and a demi-human in their group, and a whole island of story hooks to latch on to. I stated in my review of the first season that it was Gillette who provided context for the world that Gaz left behind and while you could argue the same is true here, it proves not to be a world worth exploring.
Certainly the opening scene of the first episode provides more about Emperor Gaz and his empire than the entirety of the first season: we see his castle in all its Soviet-bloc grandeur and even catch a glimpse of the man himself, wispy beard and all. For the first few episodes at least then, the structure of the first series makes a return: advance to new location, have adventures, receive information, repeat. By wrapping up the story though the characters congregate in a single location that happens to be a dirty, drab looking castle of dark corridors and characterless arenas. Even the beautifully detailed neon magic of the gundos can't cover up a rote and boring set of environments, far and away from the floating castle, walls literally lined with the dead, that was the climax of the last season.
This second season then is a cavalcade of missed opportunities, the story train continually missing the signals to slow down and the chances to change track. Each character, that was so expertly crafted in the first season with deliberate pacing and judicious screentime, is either left by the wayside or has an emotional arc that is never satisfactorily concluded. Grander themes are abandoned even as incidental themes like the body horror of the Chaikas, reinforced by the rebirth in the penultimate episode, or the effect of parents on their children demonstrated by the Black Chaika's last words, are ignored in service of getting to the end of the story without ever really finishing it.
That end leaves a bitter taste not only for its lack of emotional conclusion (though that's a large part of it) but because by condensing all of the revelations into barely half an hour, it's difficult not to see Chaika the series as ultimately silly. That is its lasting legacy then: not as a story of a little girl, lost in a forest finding a family, finding a goal beyond the wants of her father but as a pants-on-head stupid romp through a world of unicorns and dragons and wizards. To be able to undo all of that good will earned in the first season in such a short a space of time is impressive, but not necessarily something to be proud of. An otherwise fine series with humour and drama alike but spoiled by an ending that is indicative more of poor planning or skittish purse-strings than lack of will or imagination.