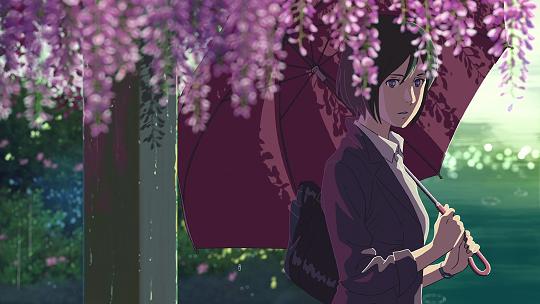 "Hmmmm." That was the noise I made as the post-credits scene in Makoto Shinkai's Kotonoha no Niwa (Garden of Words) faded to black. It wasn't so much a question or even a measure of concern but more a noncommittal sound that seemed to fit with the rather woolly way the petite forty five minute film ends. Ordinarily at the end of Shinkai film, even one as short as Dareka no Manazashi (Someone's Gaze), there's a satisfied silence, pregnant with the weight of the story just told and the characters just glimpsed.
Pluviophiles rejoice for much attention is lavished on the rain
A lot of the discomfort with the ending will likely come from what expectations you had going into it - in short whether you're familiar with Shinkai's films or not. Certainly you should take each work on its own merits, but the sharing of motifs and style and tone is enough to sink you back into the amber sunsets and cloudscapes first set out in Hoshi no Koe (Voices of a Distant Star).