A review of the second Sword Art Online anime series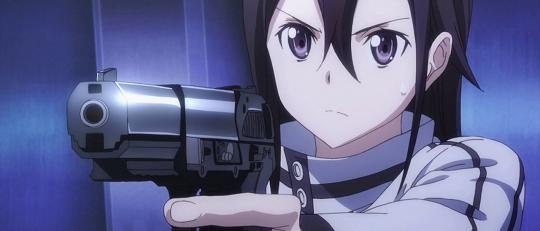 Some way into this second series of Sword Art Online I found myself thinking that it was quite brave. Taking the clown-shoed silliness of the first series and slowing everything down, focusing on characters and setting, seemed like an odd decision. Like so many other aspects of Sword Art Online II though, I was disappointed. It's not being brave, just invoking standard shounen-esque time wasting. Meaning if you watched the series as it aired you will have spent several weeks watching wunderkind Kirito and newcomer Sinon sit in a virtual cave in the middle of a virtual desert.
Imagine a character that is part Jesus Christ and part James Dean and you get the idea
I shouldn't really have expected anything else really. I liked the simplicity of the first series' bifurcated storyline in a schlocky, intelligence-lite way, but the spark of that first storyline - trapped in a virtual world, die here and you die for real - was gone. Alfheim, the fairy filled fantasy funfair that occupied the second half of that series and is now the staple MMO for the core cast, was bright and cheerful but lacked the tangibility of Aincrad. It's disheartening then that this second series kicks off by plunging Kirito into the grimy, gunmetal grey world of Gun Gale Online.