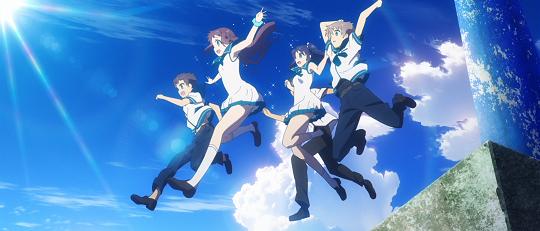 Like many recent two-season anime series, Nagi no Asukara (lit. From The Calm Tomorrow, alt. A Lull in the Sea) is bifurcated neatly at the thirteen episode mark. You could, in theory, leave the series at that point and be content with a competent if unresolved story story of early teenage angst. It would be a huge disservice to how spectacular the series is a whole though, and though you can spend the former half playing "count how many times girls cry" each episode, the latter half exceeds an already beautiful production with a thematically rich and emotionally charged tale of adolescent love in all its forms.
Your eyes are so blue, and your tears look like waves
It's an unlikely recommendation for a series whose director's previous productions have included the Inuyasha movies and the woefully unremarkable Gunparade Orchestra. Perhaps not so unlikely though for the writer who is right at home after penning The Pet Girl of Sakurasou and the similarly P.A. Works produced Hanasaku Iroha. It's also odd to hear myself recommending it when the pseudo-contemporary setting and laser focus on romance and juvenile relationships isn't my usual fare. But rare is a series that is afforded such startling production values that match a capable story and confident delivery.