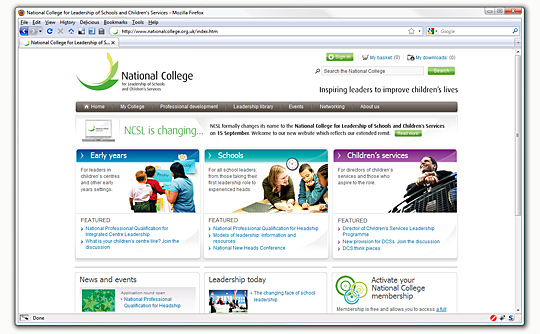 One of the sites I've been working on for almost a year now has gone live: National College for Leadership of Schools and Children's Services. Responsible for markup, styling and scripting, the site went through numerous visual and requirement changes before the current layout and design was settled upon.
a benchmark for design, usability and accessibility, catering to a wide audience without compromising aesthetics
Starting in November 2008 with the then named NCSL (National College for School Leadership), the number of templates could be counted on two hands and script components were non-existent; since then the brand and colour scheme have changed, a font replacement library has been implemented, upgraded then changed (
sIFR
version two, then three, then
Cufon
), script components now include tabs, social bookmarking, tooltips and a fully-featured carousel, and the number of templates has ballooned to encompass a wide variety of pages including a number of
member-only pages
most site visitors will never see.
The client had a very strict set of requirements regarding accessibility, usability and aesthetics, the site was a great challenge and it's brilliant to see it go live. With it now out in the wild, it's a good opportunity to examine just some of the  notable aspects of the project.