A Witch Craft Works review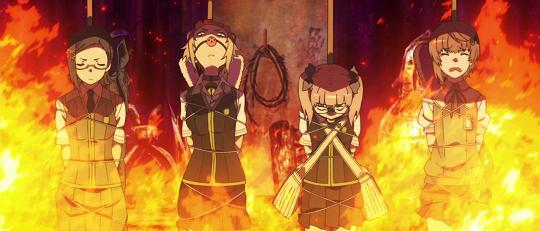 Either I was subject to a maliciously obtuse translation or my mind must have been elsewhere during all of the important explanations in Witch Craft Works because not much really makes sense. Like repeatedly walking in during the middle of a spy thriller, vast swathes of WCW's world and rules are left unexplained until long after when it was needed. It wouldn't have improved the story or made the main characters any less wooden, but it would have at least let the plot flow a little more naturally.
a CG army of steampunk rabbits bum rushing Honoka and Ayaka in the school quadrangle
From what I can gather, Honoka Takamiya is a thoroughly boring young man; lacking friends and any noteworthy hobbies and for all intents and purposes didn't exist until the tall, stoic and busty Ayaka Kagari crashes into his life on a broomstick and wearing a witch's hat. Due to ill explained purposes, Tower witches are attacking Honoka and it's up to her and more or less every other Workshop witch in a five mile radius to protect him. Oh and civilians can't be hurt by witches because of Reasons™ and any property damage caused by witch-on-witch scuffles magically repairs itself.