First released: October 2011
Version reviewed: BluRay
I will never be ready to talk about Type-Moon's works with any kind of certainty. I only have to glance at a page on the relevant Wikia to realise that what I know is but a sliver of what is, somehow, established lore. I've even forgone calling it the "Nasuverse"; even that term seems questionable when you consider Fate/Zero was originally a light novel written by Gen Urobuchi (he of Madoka and Psycho Pass heritage) and turned into an anime series in 2011.
breaking the spirit and bodies of those he faces before gifting them an ignominious death
It is with some certainty that I can say Fate/Zero is a prequel to Fate/stay night (surely dividing "Fate" by zero would be undefined…) and is, in every regard, immeasurably better than it. Well, better than 2006 Studio Deen produced series at least, the recently announced "new chapter" is still an unknown quantity. Sumptuously produced by UFOTable (see also: Kara no Kyoukai) and with a plot that bares its mettle from the outset, the story of the fourth Holy Grail war is dark, vicious, and mind-bogglingly spectacular.
Prior knowledge of the Fate/* mythology is entirely optional when starting Zero: most of the relevant ground rules and required knowledge is laid out in the double-length first episode while each magical Servant is summoned by their respective master. Indeed, knowing how Fate/stay night starts is akin to having watched the original Star Wars trilogy before the newer prequels. The ending may be preordained but the journey, in this case at least, is worth your time.
No more is this apparent than the first scuffle; kicking off at the end of the third episode and wrapping up by the end of the sixth; what begins as a tense duel ends up as a clusterfuck of Servant posturing and coruscating magical kerfuffles, all while masters and mages prowl in the shadows of the battlefield. This is a series built on contrast, and while the Servants battle for honour and pride, soliloquising on the lofty ideals of being leaders, their masters backstab, skulk and murder.
None quite so much as Kiritsugu Emiya, ostensibly the protagonist of the series despite sharing the limelight with numerous others, he embodies the ideal of "the mission above all else". No action or manoeuvre is off the cards for him as he utilises both magic and guerilla tactics to shocking ends. At first his methods seem proportionate to the threat he faces, but with each successive blow we see how utterly ruthless he is, breaking the spirit and bodies of those he faces before gifting them an ignominious death.
For better or worse though he is equally matched by many others in the cast. Chief amongst them is Kirei Kotomine who is Kiritsugu's equal in skill, but the kind of religious zeal one would expect from an adherent of the Church is absent. Instead we see his character and morals change as his beliefs are cleaved away, primarily through his discussions with the Servant Gilgamesh. Somewhat of an 11th hour antagonist in Fate/stay night and no longer a cackling, monomaniacal caricature, he is shrewd, hedonistic, capricious and ferociously powerful, here he joins two other Servants plucked from notable leaders of history.
The first, Iskander, seems like a muscle-bound barbarian with a brash and straightforward personality that initially plays him as the buffoon; the interactions with his gangly and somewhat naive master providing much of the levity in the opening episodes. That meat-headedness is tempered though by a keen intellect that, when he literally sits down and discusses the tribulations of leadership with the other two, elevates the discussion well above the cliched "heavy is the head that wears the crown".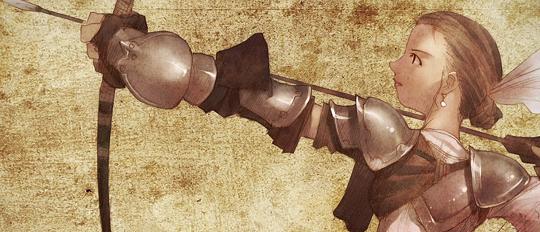 Though endlessly wordy it is these dips into the philosophy of leadership, the nature of war and the cost of chivalry that underpins a lot of the growth that many of the characters undergo, Servant and master alike. No more so than with Saber who completes the historical leader triumvirate. Her meta-reputation wholly precedes her, immortalised as she is in countless figures and imagery in Akihabara and beyond, here though her chaste nobility is questioned in a most fundamental way. She may well be the most pursued female in the series with almost every Servant having some kind of fascination with her, imagined or not. Her skill though is unquestioned and some of the high points of the series are when she trades iridescent and graceful blows with equally chivalrous Lancer.
The low points then are best to be taken as relative. There are no terrible episodes, but when compared to the bevy of good ones, storylines like Kiritsugu's past or the tonally bizarre Azaka interlude come across as stalling a plot that had only just built momentum. This only exacerbates the other major failing: with such a sterling cast, not enough time is given to secondary characters. Gilgamesh, as beguiling as he is, begins to outstay his welcome, yet Kariya Matou who sacrificed himself to insect magicks to save a young child is given short shrift, just as his Servant Berserker is criminally underused especially given its immense presence whenever it is.
The opposite of this then is dwelling too long on characters, a fault which falls squarely on Caster and his master who are both so gloriously unhinged it's somewhat surprising they exert such a presence on the series well past its midpoint. As mentioned before though, this is a series of contrast. So while Caster and his protogeé are puppy-kicking, scenery-chewing evil, it juxtaposes Kirei's madness, making him seem all-the-more more frighteningly focused, a trait that lamentably exhibits itself most keenly against women resulting in some hideous displays of violence. Like the fifth Kara No Kyoukai film's fascination with paradoxes, here the contrast permeates everything from the lush visuals to the story's underpinning philosophy.
The hubris and ruthlessness of the mages and masters are balanced by the chivalry and honour of the Servants. The oversaturated brightness of Kiritsugu's past ebbs into the near pitch black of his present. Though he treats Saber with indifference, or at least borderline contempt, she represents an important figure for Irisviel, his demure wife. Perhaps most crucially though is the question of whether all of the bloodshed and treachery justify the chance for the pure wish the Holy Grail offers? Does the end really justify the means? These are the questions that Fate/Zero asks through nothing less than love, betrayal, sacrifice and suffering.
It puts weight behind every murder, every death is unnecessary but meaningful regardless of how ignominious it is. Someone is always left behind or left without because the characters exist outside of the story being told, the series is but a bloody, two week window into their lives. That an anime series can pose these questions and stoke such feeling towards its characters is nothing short of superlative. Combined with confident direction, breath-taking visuals and an iconic score from Yuki Kajiura and the only conclusion I can come to, that I am absolutely sure of, is that Fate/Zero is hauntingly close to sublime.