I felt like a monster after the final episode of Shigatsu wa Kimi no Uso (Your Lie in April). The ending was always going to go one of two ways and I was braced for either one: agonising tears or delirious happiness. I certainly didn't expect to feel nothing. All these other people gushing tears, drowning in hyperbole, and there I was, indifferent. I had cheered Kousei Arima on through the bright lights of stage performances and honey-lit afternoon walks home but in the denouement I realised that all the individual things that irked me about the series had gathered like so much detritus on a beach and was now spoiled.
he is lionised, an indestructible prodigy and a mountain that must be conquered
I knew what I was getting in to of course. Awash with pastel shades and misty eyed teenagers this was a romance series first and foremost with the "musician's heart" narrative the tempo to the love story melody. Kousei starts out unable to play the piano, supposedly a prodigy from a young age, he is invited on a date by his best friend and serial flirt Ryouta where he meets the series' poster child, Kaori Miyazono.
Her introduction could not be more precise: framed by cherry trees in full, luscious bloom she prances barefoot while tootling on a melodica for a trio of rapt children. She turns, a lion's mane of hair bunched up into a ponytail and her eyes meet Kousei's.
You can tell where this is going.
It's a straightforward premise, admittedly one that's played out with admirable verve and passion, meaning that by the midpoint of the twenty two episode runtime Kousei has come to terms with what was holding back his piano playing and he is, of course, totally smitten with this blonde force of nature that swept into his life. The issue with this premise, and one that I expressed concern about early on, is that Kaori embodies that most pernicious of tropes, the Manic Pixie Dream Girl. Her carefree attitude brings, quite literally, colour back into Kousei's life and rekindles his prodigious talent as a classical pianist.
The keenest indicator of this is how little we know about her versus how much we know about him. It's similar, though with an inverted viewpoint, to that of Ao Haru Ride where the male, tortured past and gloomy outlook is drawn into the technicolour light by the sheer force of presence of the female. Indeed it isn't until the final episode that we learn anything that's not superficial about Kaori, and by that point the second half of the series' storyline has wrapped up making the revelations somewhat moot.
Her illness, as foreshadowed as it is, is another point of contention because like her overtures towards Kousei it is given only the most perfunctory of explanations. I wasn't looking for a full medical diagnosis, but the merest hints of its nature would have gone a long way to allaying my concern that just the fact that she is infirmed is enough for the story. In short: it doesn't matter what she's ill with, only that her time with Kousei is limited and ephemeral. This becomes especially blatant when Kousei's piano teacher, Hiroko (sporting the wonderfully rich tones of Mie Sonozaki) muses that Kousei may need to "lose another person" for him to grow as a pianist. Death flags all around!
For the purposes of this review then let's say Kaori was suffering from… scurvy.
I said that more is revealed about Kaori in the last episode which I would otherwise be thankful for, yet in a final, lamentable twist, it turns out that Kousei in fact inspired Kaori to take up violin so that she could play with with him. So not only is Kousei's first recital responsible for inspiring his two greatest rivals, Emi and Takeshi, but also for the girl who falls in love with him, who later drags him out of his quagmire of emotions and lets him grow as a pianist. It was ultimately that realisation that stymied any tears in the last episode, that Kaori's whole existence from childhood to eventual death was to enable Kousei to grow as a person and as a performer.
Make no mistake these issues are fundamental to the series and are the root of my discomfort with it as a whole, but they don't lessen the moment to moment, episode to episode enjoyment. The grand prix may be discomfitting but the individual races are thrilling.
Especially so when Emi and Takeshi enter the frame and like champion race horses, they have to see the competition to truly compete. This gives their on stage performances the same narrative beats as that of a sports anime: the thrill of a rival, the tension before a match and the exhilaration of the performance. Indeed it's the piano performances that stand out in what is already a superb musical score; the direction isn't afraid to (sometimes) dial back the dialogue and endless introspection and let the sound of a piano played to perfection soak in. It is through these performances that the characters truly communicate and though each competition may stretch on for episodes at a time, diving and swirling around the backstory of each character, there is something thrilling about the simplicity of a musical score, a person and a piano.
Sure there are missteps: when characters in the audience claim that Kousei's playing is soulful or angry or that he's, ahem, "consuming the melody" I had to take it at face value. Having played piano in a past life I know when I hear good playing, but lack the experience or musical ignorance to scoff at such declarations. Elsewhere though the score by Masaru Yokoyama is uniformly superb with stirring melodies like "Yuujin A" (Friend A) sending a shiver down the spine, or the insert songs by ENA totally absorbing to say nothing of the first opening by Goose House which has me whistling it even now.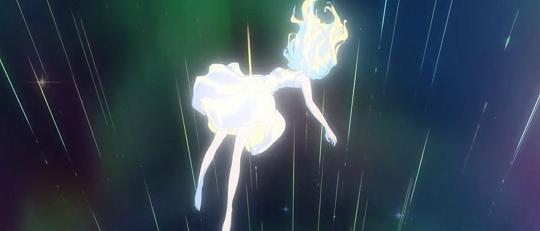 It's a shame that the music plays second string to the romance because it's by far the more interesting aspect to the series. Its wider remit with Emi, Takeshi and eventually Nagi means we get a different view of Kousei. One where he is lionised, an indestructible prodigy and a mountain that must be conquered; yet to see him falter and be consumed by doubt humanises him in the eyes of the audience and those who put such stock in him. It brings out the quiet strength of Emi and brassiness of Takeshi with all the sweat and tears and heartache in a way that only someone who knows music and knows performing and competing could possible write.
Helping this along is a fanatical devotion to the piano itself, lovingly rendered and impossibly shiny, it is as close to piano porn as you are likely to get with the hammers striking the strings with computer guided grace. To its credit the use of CG for the many pianists' hands is a superb choice because it connects the playing to the music which is, by the nature of animation, always been difficult to achieve. It's just one element of the series' aesthetic though that has evidently had hours poured into every detail from the rain soaked city streets to the tree lined avenues around the school: this is a gorgeous series and one that pleasingly knows how to do visual comedy as much as it does agonised teenagers with tear streaked eyes.
In the end, I don't regret watching Shigatsu wa Kimi no Uso despite my reservations of it as a whole. I expect that taking it at face value - all fluttering cherry blossoms, cerulean skies and fireflies in an empty field - and not overthinking it (Oedipus complex Kousei, hmmm?) would leave you with a far better view of it. Despoiling something so visually arresting and that, when it comes down to it, has its heart in the right place feels a little like applying Freud to a children's story, tainting it in the service of analysis. It is a rollercoaster of emotions be that elation when Kousei belts out a duet with Nagi, glee whenever Hiroko's daughter Koharu is on screen, or sadness when Kousei comes to terms with his till then unresolved emotions. Heartfelt then, but foundationally flawed.