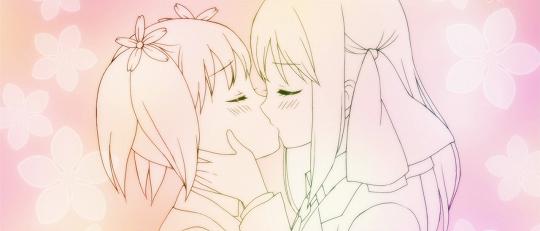 It's right there in the first few lines of the opening: "Kiss kiss kiss, I can't take my eyes off you". That's the entirety of Sakura Trick, the length and breadth of its offering. The initial gambit is much bolder: a fluffy but uninhibited romance between two young women; the reality though lacks a lot of what could have made that worthwhile. Wait, rewind. Sakura Trick isn't for me. As a modern, self-effacing male, it's probably prudent to start with that. It's also not as though I have a whole lot of context for what the twelve episode series brings to the shoujo ai genre (although Wikipedia insists it's targeted at young adult males). Certainly I have touchstone shows to fall back on like Sailor Moon and Revolutionary Girl Utena as well as the briefest of exposures to Maria-sama ga Miteru and Strawberry Panic but in terms of it embodying or enhancing its genre? Very little.
wreathed in pastel shades and inundated with an endless source of cherry blossom
It's refreshing at first to see an intimate relationship between two characters in an anime that doesn't cleave closely to the harem or chase-the-girl setups. The series is bookended by what feels like a natural progression for the two protagonists: starting with them advancing to more than just friends and finishing with them questioning what love is. The naturalness presents the initial allure because it normalises a same-sex relationship that is elsewhere presented as coy and unspoken with series like My-HiME or even Stellvia of the Universe. It becomes a given that Haruka and Yuu are together and that either their friends are oblivious to it or blithely accept it.