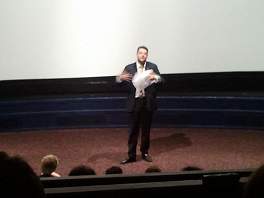 Jonathan Clements introducing Summer Wars
Kicking off the Scotland Loves Animation set of events was a showing of Summer Wars at the Glasgow Film Theatre. Organised by with the help from UK organisations such as Manga Entertainment, the Japan Foundation and Creative Scotland, it is the first in a series of films being shown at the GFT and later at the Edinburgh Filmhouse.
Having been earlier in the year to the UK premiere of Evangelion 2.0, it was familiar territory and the trip up from England wasn't as fraught as I had expected. The queue to enter the cinema was sizeable and with no allocated seats, I feared getting a good spot would be impossible. I was pleasantly surprised though to land in an almost central spot and for some seats to be left vacant.