A review of the Hanayamata anime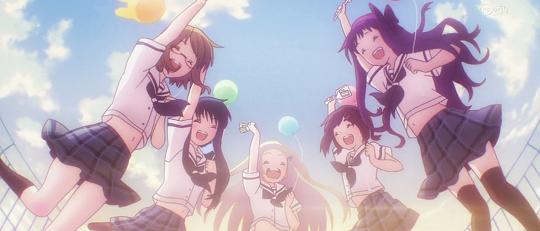 You know how Hanayamata ends. You probably know how the majority of the individual episodes end as well. Cliche is both the strongest and weakest thing that Hanayamata has going for it, because on the one hand you can be safe in the knowledge that the quintet of girls will make it through with smiles on their faces and fireworks in their eyes and that everything will be all right. On the other hand though, there's not a lot else going on. It's a solid, visually arresting but cacophonous twelve episode series that starts with trepidation and ends with a dance number.
the series feels like its trapped in a swarm of disgruntled sparrows
It's set in Kamakura though which, if you've ever had the pleasure of going there, is one of those places where you can travel in a rickshaw and see horse archery and a bronze buddha statue all in an afternoon. Setting Hanayamata there gifts it with a kind of ethereal magic that the first episode, with its pint-sized dancing blonde girl, captures brilliantly, making it seem that a school club for yosakoi isn't so outlandish.