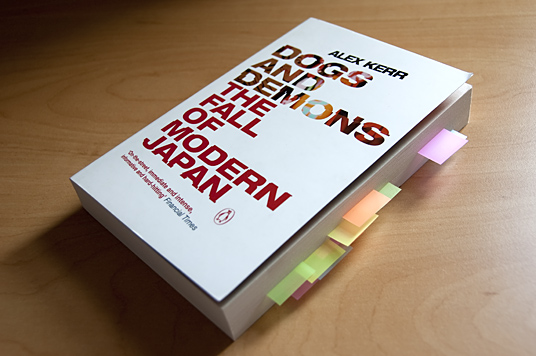 Alex Kerr is no stranger to Japan, his books and history demonstrate a continuing personal involvement and deep affection for the country which is hard to find in many foreigners. Perhaps best know for the seminal Lost Japan, Dogs and Demons: The Fall of Modern Japan was published eight years later in 2002 and aims to get to the heart of how Japan as a nation has been degrading since the Second World War and before. At times it is a bleak and unforgiving book that aims with ruthless precision to uncover why Japan, once sequestered, then exposed, then devastated, then superior and now, supposedly irrelevant, has become that way. By and large it succeeds and prises open a world that no other book has had the courage to touch upon - indeed Kerr expands on this at many points throughout the ~400 page book. Unfortunately though it is hamstrung by many arguments which boil down to personal opinion and though convincing, it is difficult not to see this as only one side to a very complex and pertinent argument.
acts a touchstone for a country exiting a period of stagnation and turbulence but whether anything has changed in the meantime is the biggest question
I was first introduced to the book through
Joi Ito's blog
which also recommended and revealed a number of other
alternative
books
around Japan that are currently on my reading stack. It is the first Japan related book that I have read that doesn't take either an educational or effusive stance on the country or element of its culture which was the greatest hurdle to overcome when starting out. The writing style is clean and precise which is excellent for getting across fact but not so when dealing with opinion. As Kerr mentions, the statistics he includes are accurate to the best of his ability but thanks to the idiosyncrasies of reporting and accounting, many are hard to verify; regardless the breadth of research that went into the book is awe inspiring and although it is now becoming dated, what is surprising is not only how relevant the book still is but how relevant it is regarding the recent economic turmoil suffered by the majority of the developed world.