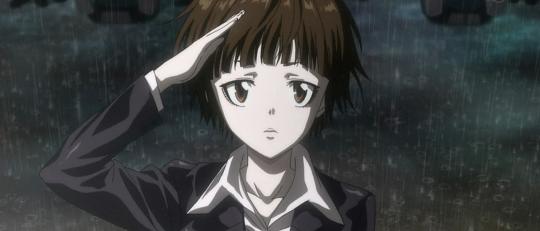 It's a heretical sentiment to anyone, British or no, who grew up with Dredd as a comic book icon. Comparing Psycho-Pass' protagonist - a timid girl fresh out of the academy - to a Dirty Harry homage that was progressively retrofitted with philosophies from Thatcher's Britian, Fascism and the Cold War seems tortured at best.
gave the government means and opportunity to eradicate [...] political dissent by arresting deviants and subjecting them to 're-education'
But a dystopian future society under an absolute authoritarian rule, enforced by an organisation with little to no oversight and the ability, nay the responsibility, to mete out lethal justice to those deemed to deviate from the norm? The minutiae may be different but the broad strokes bear a striking similarity. More than that though, many of Dredd's stories over his 35 year tenure have been a pastiche or a response to real life situations and concerns. Likewise,
Psycho-Pass
is a response to the police force within Japan.